JOHANN SEBASTIAN BACH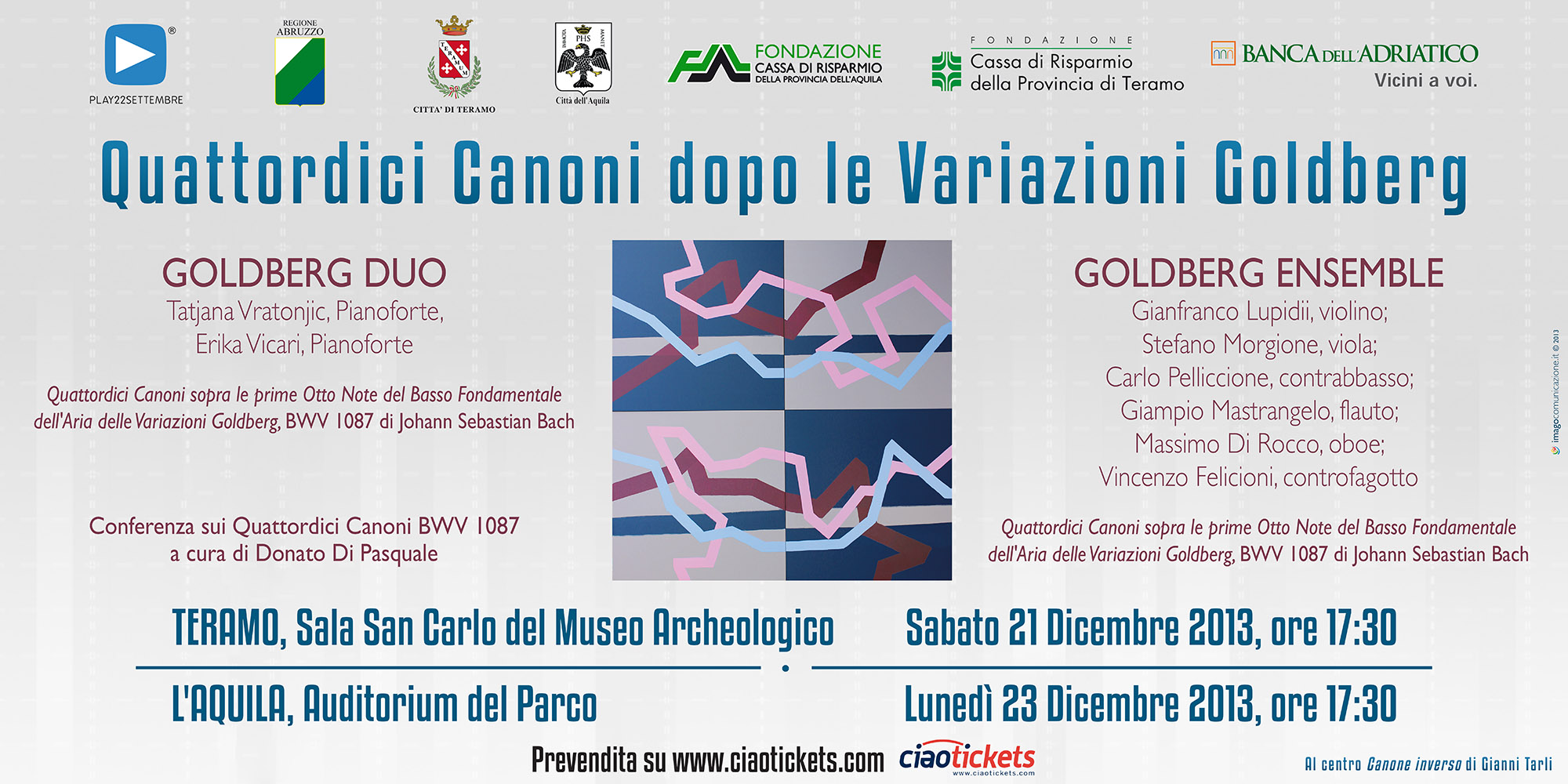 FOURTEEN CANONS AFTER THE GOLDBERG VARIATIONS.
NEW4HANDS IN CONCERT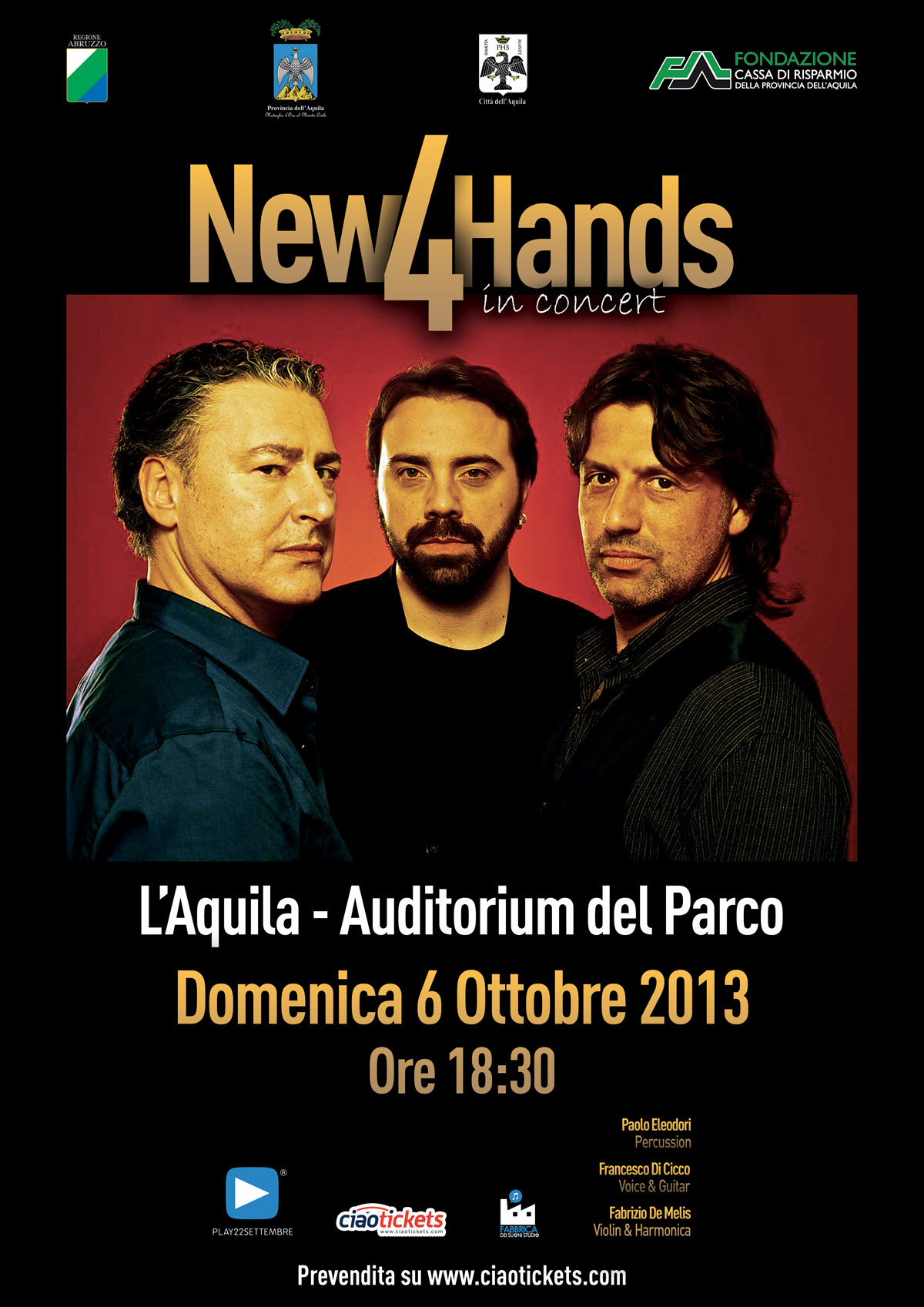 New4Hands "How to create a musical fireworks using only three instruments" (Shelly Kupferberg for Deutschlandradio, Berlin). The Italian Trio "New4Hands" shows us how this is possible [...] The Trio founded in 2010, through the streets of Berlin, and just in this city their musical project starts to spread their music throughout Europe. L'AQUILA – AUDITORIUM DEL PARCO – SUNDAY, OCTOBER 6, 2013, 6:30 pm (doors open at 5:30 pm) – Presale on CIAOTICKETS! Stores and Online at the link below!

CIAOTICKETS...

Tell a friend!
Premio volontariato
Come to meet us on Saturday, September 22 2012 at Piazza Martiri della Libertà in Teramo, for the Premio Volontariato (Volunteer Award) - Teramo 2012 !!!
Gran Sasso, Grande Fratello.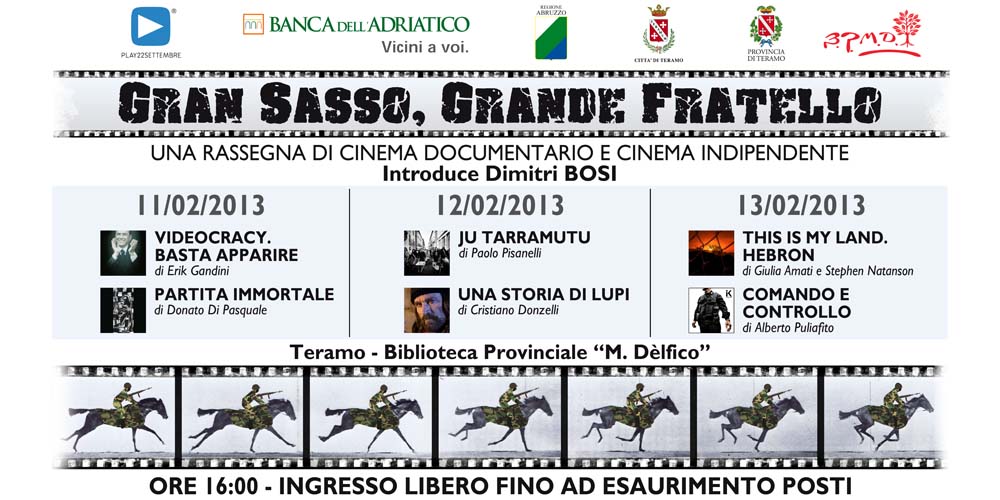 There will be the following guests:

Matteo DI SIMONE and Gianluca PALMA, respectively, sound designer and colorist of THIS IS MY LAND. HEBRON;
Paolo PISANELLI, director of JU TARRAMUTU;
Cristiano DONZELLI, director of UNA STORIA DI LUPI;
Gianni TARLI, production designer PARTITA IMMORTALE;
Flavio SCIOLÈ, The Unknown Soldier in PARTITA IMMORTALE; acted in and directed the short ANTI WAR.

Since we have met several colleagues and friends who still remembered the old building, we note that since 2004, the Library is located in via Dèlfico 16.

We give two references on the web:

http://www.provincia.teramo.it/biblioteca
http://it.wikipedia.org/wiki/Biblioteca_provinciale_Melchiorre_D%C3%A8lfico

and the coordinates for those who use Google Maps or navigation systems

42.660087,13.700529

TELL A FRIEND!



Gran Sasso, Grande Fratello. An overview of documentary films and independent cinema. Introduces Dimitri BOSI.
Come and meet us at the "M. Dèlfico" Library in Teramo on 11, 12 and 13 February 2013.

FREE ADMISSION UNTIL ALL PLACES ARE